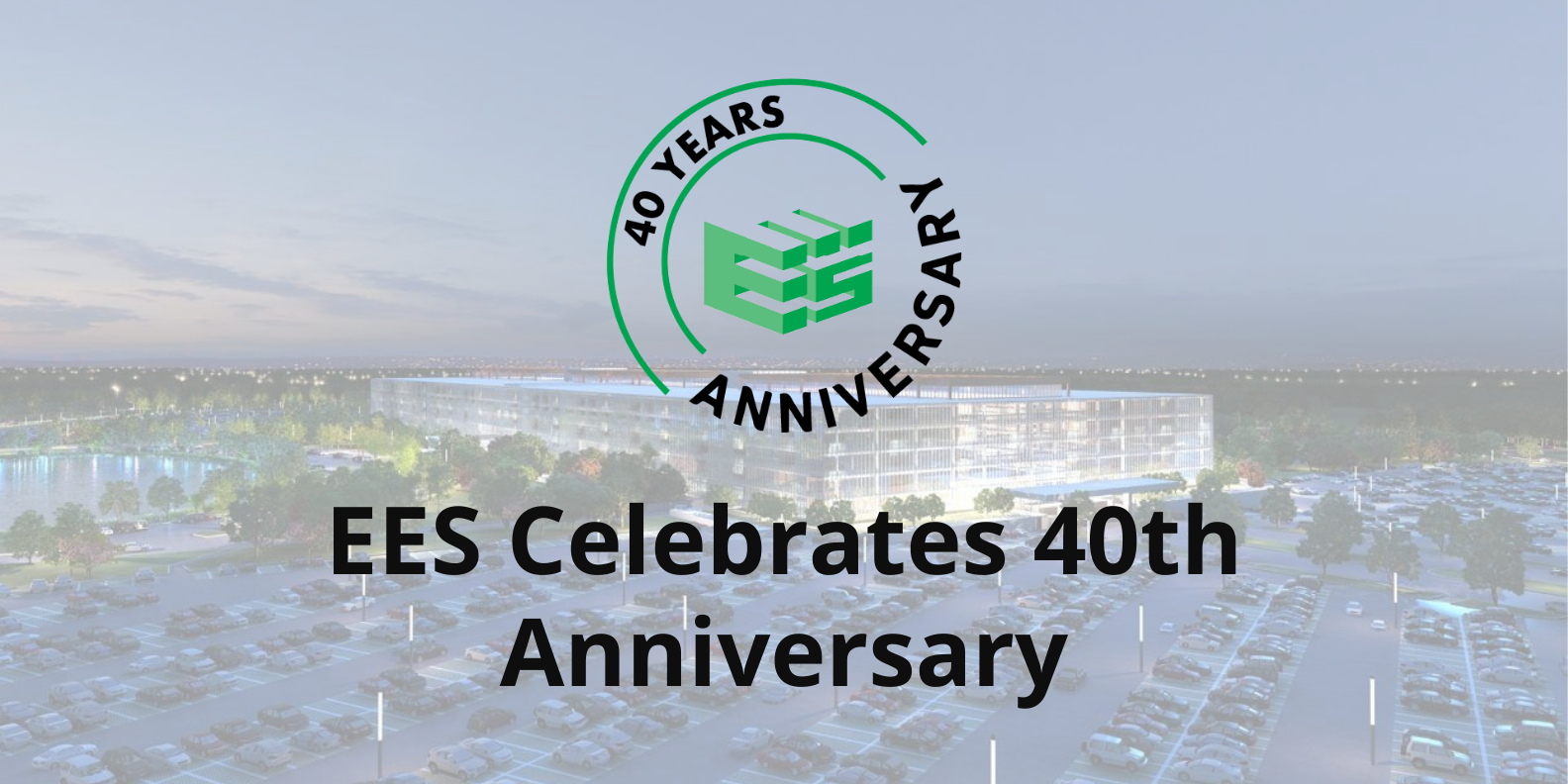 EES thanks loyal employees, clients and partners in celebration of four decades of providing smart automated control and monitoring solutions for critical infrastructure systems to the building management and transportation industries.
Warren, NJ – April 5, 2022 – Engineered Energy Solutions (EES), North America's premier partner for energy-efficient green building management systems (BMS) and transportation control systems today announced April 1, 2022 marked the company's 40-year anniversary.
Founded in 1982 by Chairman Pat Miller, Engineered Energy Solutions has been installing and optimizing building management systems for four decades. "Our first clients were Fortune 500 companies in the New York metropolitan area and these became anchor clients," said Miller. "We used the new technology of the era to put energy and cost savings within reach of our building management system clients. After we got established in the BMS industry, including installations in critical industries such as data centers and pharmaceutical manufacturing we started designing projects in the transportation industry, such as automating critical ventilation and infrastructure systems for the Queens Midtown Tunnel and The Brooklyn Battery Tunnel. We remain passionate advocates for industrial sustainability and reducing carbon emissions."
Early in the company's history, Bell Labs in Holmdel, New Jersey became an important client. EES originally installed the controls and infrastructure at the two-million-square-foot building which housed office and laboratory space. The company redesigned and installed new equipment for the state-of-the-art facility when it was recommissioned as Bell Works, a unique combination of office and recreational spaces dubbed a "metroburb."
"EES has been a driving force at the metroburb for more than 30 years, dating back to its days as a hub of innovation for Bell Labs," said David Schreiber, Executive Vice President at Somerset Development. "They have been a trusted partner to Somerset since we began transforming this once-vacant campus into the thriving commercial and community destination that it is today, and we look forward to continuing our valuable relationship as they enter their fifth decade in business."
"A reliable building management system (BMS) and superior connectivity is critical to the success of any commercial building, particularly one as unique as Bell Works," said Ralph Zucker, President of Somerset Development. "We have been privileged to work with a leading company like EES, which possesses a level of expertise that allows them to seamlessly manage the large and complex infrastructure that powers the metroburb every single day. Their longevity is a testament to the truly unique and powerful solutions they offer to both Somerset and all of their partners, and we congratulate them as they mark their 40th anniversary in business."
President Bruce Marson has been with EES for more than 30 years. "I would like to thank our loyal clients, some of whom have allowed us to serve them for more than three decades," said Marson. "We continue to serve our original mission of providing excellence in control systems to save energy and cost for our clients and we are committed to staying at the forefront of technology to support that endeavor. We could not have reached this milestone without our talented employees and dedicated partners."
About Engineered Energy Solutions
Founded in 1982, Engineered Energy Solutions is an industry leader in building management systems and transportation control systems. With a staff of resourceful engineers and programmers, EES uses their proprietary PROCOS™ methodology to help clients reduce their carbon footprint while also lowering utility costs. A trusted partner to building owners and facility managers, EES has a variety of clients who have utilized the company's services for more than 40 years. EES' New Jersey-based team has engineered more than 75 building and transportation control systems nationwide during the company's long history. For more information, visit EES' website, LinkedIn, Facebook, and Twitter.