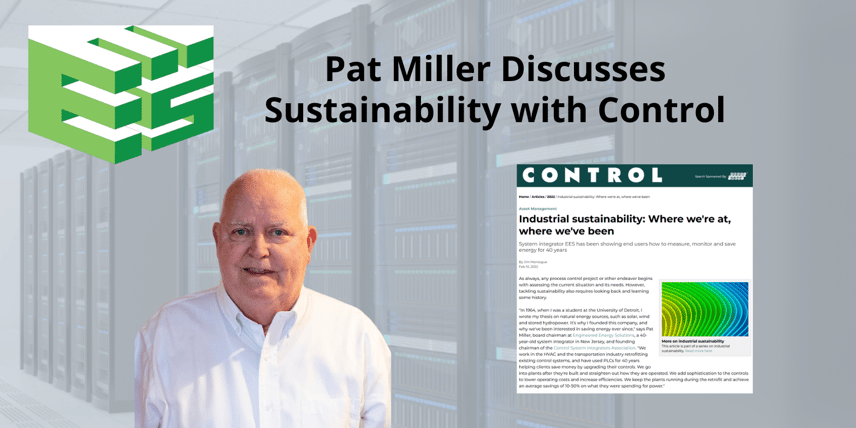 Pat Miller, founder and chairman at Engineered Energy Solutions was recently interviewed for a Control Global article entitled "Industrial Sustainability: Where We're At, Where We've Been" by Jim Montague.
Read the full article here on the Control website.
For the majority of his life, Pat Miller has been interested in energy savings, first studying the concepts while he was still an engineering student. "In 1964, when I was a student at the University of Detroit, I wrote my thesis on natural energy sources, such as solar, wind and stored hydropower. It's why I founded this company, and why we've been interested in saving energy ever since," he said.
Engineered Energy Solutions has been working in the building management system (BMS) and transportation industries for four decades, and while the clients' focus has been for EES to program control systems to save utility costs, it has also resulted in reduced carbon emissions.
"We work in the HVAC and the transportation industry retrofitting existing control systems, and have used PLCs for 40 years helping clients save money by upgrading their controls. We go into plants after they're built and straighten out how they are operated," said Miller. "We add sophistication to the controls to lower operating costs and increase efficiencies. We keep the plants running during the retrofit and achieve an average savings of 10-50% on what they were spending for power."
With EES' experience in energy savings and sustainability, the company has an extensive repertoire of project successes, including many in critical industries such as pharmaceutical manufacturing, data centers, and transportation infrastructure. "There are many things we can do to improve sustainability in processes and plants, but they typically aren't well known," explained Miller. "We must find out what drives the need for a plant to maintain certain temperatures or humidity levels, etc.; this will determine what sensors, instruments, analyzers and historical data are required to learn what can be changed not only to save money, but also to protect the environment."
For HVAC and BMS systems, Miller's experience goes back to the energy crisis in the 1970s, when "building managers slammed their outside air dampers shut to save money," he said. "However, this was wrong because it led to 'sick buildings.' Eventually, codes were enforced to limit this practice, and these situations are better now. Many of these issues resurfaced during the COVID-19 pandemic because there were far fewer people in many buildings and this lowered the amount of energy required to maintain the comfort of the building."
EES has experience with and supports the use of non-traditional refrigerants such as ammonia because of their excellent environmental profile. "We're enthusiastic about the wider use of ammonia as a refrigerant. It's typically used in chilled water and frozen food applications, and we've controlled plants that use it to produce chilled water," said Miller. "Users have been afraid of ammonia due to safety concerns, and it must be handled safely, but it can also make a huge difference in sustainability because it provides at least 10 times more BTUs per pound (net refrigeration effect) than the usual R134a refrigerant."
To learn more about Pat Miller and EES' backstory, read this article. For more information on industrial sustainability, read these articles on ammonia as a refrigerant, variable refrigerant flow HVAC systems, and reducing carbon emissions from building management systems.
Read the full article here.