For the past 2 ½ years, engineers at EES have been working to install state-of-the-art HVAC systems into new residential and retail master-planned community Pier Village in the iconic shore community of Long Branch, NJ.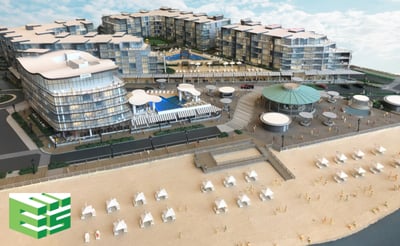 Pier Village is a high-end development with luxury condominiums in a seaside setting with amazing views and plenty of amenities, such as restaurants and lounges, retail stores, a spa, and beautifully landscaped open space around its namesake pier and boardwalk. The property also features a podium level in the center courtyard showcasing a sunken swimming pool and lounge area with stunning ocean views.
With residential unit ownership starting at $500,000, premium lodgings demand the best HVAC systems to keep occupants comfortable no matter the weather outside. Pier Village condominiums and common areas have been outfitted with one of the newest HVAC innovations, air-cooled variable refrigerant flow (VRF) systems. Each condominium has its own system so there is no airflow shared among dwellings, which is increasingly important during the current pandemic.
Pier Village is owned by high-end real estate developer Extell Development of New York City. Working as a subcontractor to Lucas HVAC, EES provided a turnkey control solution which included everything from system design and programming to manual field work and construction management of the HVAC. The Samsung VRF systems provided by regional vendor SRS Enterprises feature an exterior compressor with a ducted air-handling system for quiet, even conditioning.
"I had the pleasure of working with Engineered Energy Solutions on the Pier Village project in Long Branch, NJ,"said Mike Shapiro, CaX at Pier Village. "Pete, the EES project manager at Pier Village, has continuously demonstrated extensive knowledge of the MEP systems involved and has been attentive to all the details throughout. The level of care for the project and the level of communication and collaboration with myself and the construction team as a whole exhibited by Pete and the EES team are second to none. I highly recommend EES and look forward to working with them again in the future."
The two-level Pier Village parking garage features a state-of-the-art MSA air handling system with exhaust monitoring on each floor to protect occupants from carbon monoxide, which without mitigation, can accumulate in enclosed spaces.
In the amenities area, there is a fitness center, game room, club room, board meeting room, and more. In these spaces, EES designed and installed Samsung VRFs with heat recovery, which increases occupant comfort and saves energy by the ability to redistribute heat between spaces, meaning to heat one area and cool another at the same time.
EES' design and installation of Samsung VRF HVAC systems at Pier Village meets the high expectations for a luxury property by allowing occupants to stay comfortable indoors and remain isolated from the airflow in neighboring units all while providing energy savings and a low total cost of ownership.