Vice President of Production Peter Moskal summarizes his journey along with the rest of the EES team at the 2023 Control System Integrators Association Executive Conference in New Orleans, LA.
Wow, let me first start off by saying I am grateful to be a part of such an amazing group. The people within this the Control System Integrators Association (CSIA) have such an open mind when it comes to business practices. They share experiences so others can learn from their mistakes. The camaraderie amongst peers is over the top and as someone who has always felt a bit out of place in this world I feel most at home with this group.
Day one, Tuesday, I arrived around 1pm. I headed up to my room on the 42nd Floor, where I had an amazing view of Canal Street. Once I was settled, I went down to registration where I ran into the owner of Rivergate Marketing, Georgia Whalen. We work with the Rivergate Marketing team of digital marketing specialists to drive our marketing strategy.
Later that evening I attended the Emerging Leaders Reception hosted by Copia and WIN-911. I can't thank these two companies enough for hosting this event. I ran into David Chakmakjian from Miller Resource Group, who I have written about in the past. David is a great resource if you are in need to fill a job position with technical skill. I also ran into Keith Mandachit, P.E., someone I would consider a dear friend and who I have leaned on before for guidance. The list could go on and on, I met so many fantastic industry professionals in just one reception. After the reception, we attended the Welcome Reception / Dinner.
Day two, Wednesday, I was off to breakfast where the format is open table. My goal was to sit with people I did not know so I could meet new people. This was a great opportunity for networking. I had the pleasure meeting Michael Jacobus, who is a Division Manager at Sauer Group Inc. We had a great conversation about the struggles of finding talented people and how you develop talent, the sometimes not-so-obvious person that must have a passion for what they do. We moved on to the seminars and I would have to say the keynote speaker JP Dinnell really got to me, in more than just a business mind set. Growing up, I had a few uncles and my grandfathers who all served in different divisions. Listening to him tell his story of war took me back to a time when I was about 10 years old living with my grandfather and listening to him tell stories.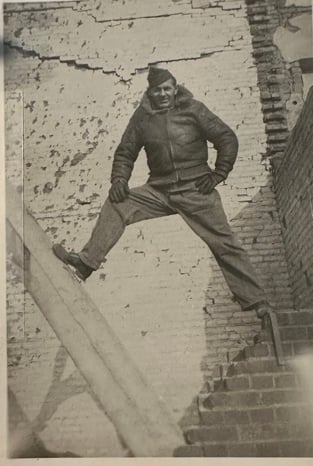 Later that evening, my CEO Bruce Marson and I hit the streets of New Orleans. He had the privilege of being to New Orleans before, so I had a great tour guide. First, Dinner at Dickie Brennan's Steakhouse: that was an amazing steak. When you find out you are going to one of country's top 20 steakhouses you go in hungry and leave full. We took a walk down the infamous Bourbon Street. The sound of music coming from every angle, even though it was night time, it was so lit up you would have thought it was day time. People laughing, having a good time from one end to the other. We ended up stopping at the Old Absinthe House. Now I am not much of a drinker, but the history of this Corner Grocery Store, Aleix's Coffee House saloon in 1815, The Absinthe Room in 1874. During the prohibition era, they still served below-the-table. In the middle of one night, everything was moved to a new location and was known as The Absinthe House Bar where bootleg booze was served to all who came to party. After many Decades, the bar returned to its original address of 240 Bourbon Street. What a night that was!
Day Three, Thursday, breakfast where I met Grant Price, who is the Vice President of Industrial Controls at Egan Company. It was interesting to find out they have been members for years but this was their first time attending the conference. They are roughly a company of 1,200 now, which is amazing. A lot of hard work goes into keeping a company growing and on the leading edge of tech, especially a company of that size.
Off to the seminars, Alex Chausovsky from Miller Resource Group gave us the latest on the Economics and Labor Market Updates. As always, he knocked it out of the park. Within our industry, there has always been an ongoing battle for talent, but it has grown over the past few years. Lessons learned from the seminar: make sure you are paying attention to your people and what their needs are, because the mindset of "this is how we always did it" will not work moving forward.
That night was the Awards dinner. During cocktail hour, Jose Rivera, the CSIA CEO, introduced me to his wife Kate and their son, who is an avid Saxophone musician. It was an honor to meet them both. At the awards, our very own marketing partner, Rivergate Marketing, was presented with the Partner Member of the Year Award. The Rising Star Award went to Sean Phillips of Hargrove Controls & Automation. Integrator Member of the Year Award was presented to EKB Group B.V. (Pictured Michiel de Lange, Managing Director, (middle) and Remco Kappert, Integration Manager, of EKB Groep B.V.) Last, but not least, the Charlie Bergman "Remember Me" Award was given to Andrew Downs of SAGE Group. Congratulations to everyone, these are huge achievements with many more to come.
Day Four, Friday, the final day. That morning Pat Miller, Bruce Marson and I sat together to discuss what we got out of the conference. Needless to say, we learned so much and are excited to implement what we have seen. We have some work to do, but we have a direction.
Bruce and I then attended one of my favorite seminars, Lessons from the Hot Stove. Mark Twain said "a cat that sits on a hot stove will never sit on a hot stove again. But of course, that cat won't sit on a cold stove either." There were a few panelists who got on stage to share their stories of how they have been burned as a lesson to be learned by everyone in the industry. It is also very humbling to know mistakes happen and we are just human. After that, it was time to head home to see my wife and kids who missed me greatly.
Follow along to see where I go next.